Beautiful/Decay began as a humble, black and white, DIY photocopied 'zine while founder Amir H. Fallah was just 16. Over time, the publication grew into a full color, internationally distributed magazine. Today, Beautiful/Decay takes the form of a limited edition, hand numbered, advertising free art book series. Though Beautiful/Decay has grown into an internationally recognized design-driven lifestyle brand, the publication still carries that same youthful sense of rebellion and experimentation that influenced the very first issues.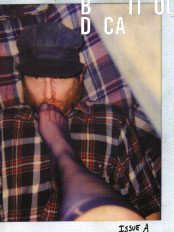 Issue A represents the rebirth of Beautiful/Decay from a black and white, hand photocopied 'zine to a full blown color magazine. The cover was created using a found polaroid Amir discovered at a popular graffiti spot in Virginia.
This issue is divided into sections on public art, fine art, and photography, and focuses in particular on street art and graffiti. Also includes two in-depth interviews with street artists Onorock and Dave Kinsey.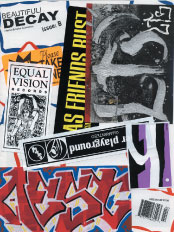 This is the ultimate collector's issue! Each and every cover of Issue B is one of a kind, painstakingly decorated by hand with a sticker collage.
Includes in-depth interviews with San Francisco graffiti hero Bigfoot and California based painter and installation artist Jeff Soto. Also includes NYC urban derelict painter Kevin Dresser, photographers Fabian Birgfeld and Silver Warner, painter Skot Olsen, plush sculpture producers Dynamo Manufacturing Co., and the city beautification specialists, Monster Project.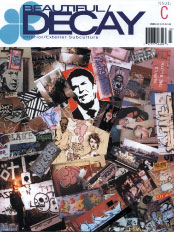 Another installment of Beautiful/Decay packed with street art. Issue C issue spotlights now-notorious street artist Banksy before his insane international fame. Includes a review of Banksy's book Existencilism, record reviews penned by Banksy and more.
Issue C also features articles on Witz, UPSO, Sigh, Coupe, RotGut, Iranica, and Jessamyn Lovell and interviews with KGBE and David Choe, the designers of Neasden Control Centre, Eli Gesner of Zoo York, designer Dan Ezra Lang, and musical group Denali.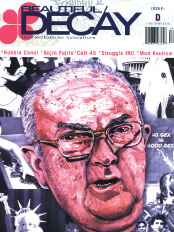 Issue D marks the move of the B/D headquarters from the East Coast to sunny LA! To stay true to B/D's East Coast start, Issue D contains a photo essay of graffiti-lined NYC subway tunnels…but also includes works created exclusively for the issue by local LA artists Nathan Mabry, Antoni Puelo, Rob Thom, and Chris Grantcreate.
Also Features To Die For, Refuse to Be Smart, Wooster Collective,Thesis and Poshe, Don't Copy Me, and Logan Hicks and interviews with Jason Derose of Equal Vision Records, Derrick Hodgsons, Robbie Conal, Colt .45, Gajin Fujita, and Cody Hudson.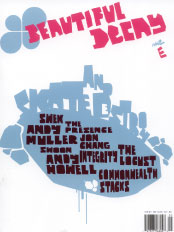 Issue E: #Skate and Destroy" delves the raw, vibrant art and culture surrounding skateboarding. Skate or Die!
Its chock-full of interviews with artists Howell, Jon Chang, Commonwealth Stacks, Anthony Yankovic III, Andy Mueller, and Swoon. Also showcases Zoltron, Swek and six artists who created site-specific works based on skateboarding, exclusively for Beautiful/Decay. We have a spread on street art from Calcutta, India, and a feature on altered billboard art. Issue E also explores the music of The Locust, Integrity, and the Presence.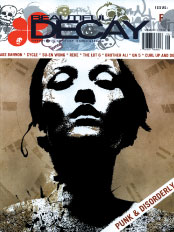 Issue F, #Punk and Disorderly," gets wild in the streets, exploring the iconography and ethos surrounding punk culture. Features a unique guest-designed cover by living legend and graffiti icon Cycle, and the one and only punk renaissance man Jake Bannon.
Also featured are gory comic illustrations by James Callahan (Barf Comics), paintings by Su-En Wong, and a killer photo essay of classic punk flyers. Interviews with rock experimentalists The Lot Six and Curl Up and Die, indie hip-hop label QN5 Music, and Pittsburgh graffiti artist Reke.
Issue G is #The Unofficial NYC Issue," reflecting the vibrancy of the urban art scene that inspired Beautiful/Decay to be what it is today.
Includes interviews with Mint and Serf, Tiffany Malakooti, Christopher Neals, Ivan Wienstein, and Peter Stemmler. Also includes features on the New York High Line (a historical landmark and well-known graffiti site), the designers (and pixel masters) known as eBoy, and Jeru and Juggaknots. Plus, Issue G is filled with tons of NYC street art – most notably exclusive spreads on NYC tunnel graffiti.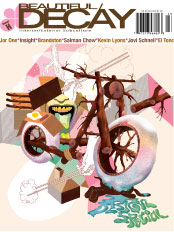 Beautiful/Decay's #The Design Special" hones in on the design world's best and brightest talents from around the world.
Includes features on Design of Graphic designer Kevin Lyons, Epitaph records designer Metro/sea, London based Insect, Brazilian Designer Tohyto, the paintings and installations of Jovi Schnell, Private Stock by Jor One and Fatso, the street art of El Tono in Spain, a Quiet Fashion spread by UPSO, and Billboard photography and manipulation by Matt Jordan. From the music world, this issue features Brandtson, Scream Club, Subconscious, and Insight.
Our #Activist Issue" is jam packed with artists looking to make a difference.
This issue features Leon Golub, an interview with Gregory Green, the political posters of Klaus Staeck, an article on the Elemental Awareness skate summer camp, the design of Ray Noland, the illustration of Ray Smith, black metal heroes Cradle of Filth, Euro street bomber Poch, SEONE's Private Stock, the design of Duskyward, Sage Francis, Shambahala, the propaganda posters of Iran, and a spotlight on New Jersey graffiti, with an interview with Kemos and a special article on Jersey highways.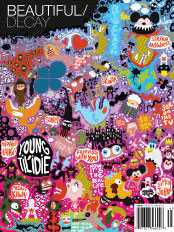 Issue J: #Young Til' I Die" is all about artists who choose to do it their way.This issue features the youthful illustrations of French artist (and our cover designer) Skwak, interviews with the playful illustrators behind Friends With You, the comic book-inspired Michael Scoggins, street artist Soviet1, and Misaki Kawai. Musical features include Strike Anywhere and Razor Crusade.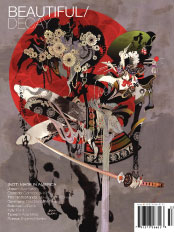 Issue K, #(Not) Made in America", features international artists from far away lands such as Japan, Germany, Russia, and The Netherlands, and is a compilation richly diverse expressions of creativity.In this issue: an interview with talented illustrator, (and out cover artist), Aya Kato, the sounds of Beep Beep, 77 Clash, LoDeck, and The Comeback Kid, and the works of Die Gestalten Verlag, Steven Wilson, Jan Kallwejt, Evengy Kiselev, Font, and Lily van der
Stockker.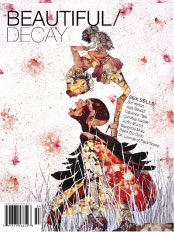 Issue L, #Sex Sells," delves into the provocative and beautiful world of sex.
Includes features on Julia Randall, Jerome Demuthand, Junko Mizuno, Wangechi Mutu, and Catherine Opie. This issue also is filled with musicians commenting the notion of sex in music. Includes one of a kind haikus on sex by a selection of rock bands, and an interview with hip-hoppers Mr. Lawnge of Black Sheep and Devin the Dude of Rap-A-Lot Records/Odd Squad about their perceptions of sex in the public realm today.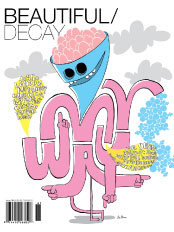 Beautiful/Decay has always been about carving your own path in life, and the artists of Issue M #My Way" do just that. Features Mark Ferem, Opiti, Jesse LeDoux, Anthony Goicolea, Harmen Liemburg, and Katharina Grosse. The issue also explores the original sounds of Pumpkinhead, Darkest Hour, Mr. Dibbs, and Propagandhi, takes a look at the Private Stock of Augor, and checks out street art in South Africa.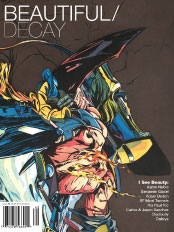 Issue N of Beautiful/Decay, #I See Beauty," features a motley crew of artists tackle the timeless ideal of beauty and filter it through their own lens. We feature Aaron Noble, morphs comic book imagery in his paintings, Ris Paul Ric, singer and bassist formerly of band Q And Not U, Dabrye, and the country-esque Decibully. Also included is the haunting story of Paul Orzech who travels thousands of miles in homage to his brother, Aest's Private Stock, San Francisco's Muni tunnel graffiti, The Sanchez brothers, Inkunstruction's hand-drawn fashion spread, and the work of expressive illustrator, Benjamin G Del.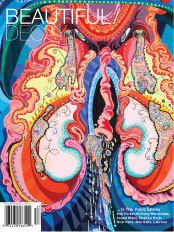 Who is the public enemy? For many artists, the idea of a public enemy inspires them to create, rebel, and speak out. In Issue: O, Beautiful/Decay #…Is the Public Enemy".
You'll find the psychedelic paintings and drawings of cover artist Erik Parker, the inquisitive typology of photographer Anthony Hernandez, and digital renderings from artist Ben Volta. Our Sound section includes interviews with musician Imaad Wasif and DJ/producer extraordinaire NickNack. We also feature a special segment revealing ten recording artists answers to the question: #Who is the public enemy?"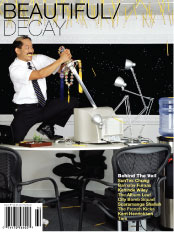 Beautiful/Decay's Issue P, #Behind the Veil" is concerned various perceptions of #truth," whether that be blatant, coded, fantastical or mundane.
In this issue, you'll find Kehinde Wiley's paintings, photographic works by Catherine Opie, Sabrina Raaf's installations, Joe Fig's doll-sized studio sculptures, Lendelle Moe's eerie hand-carved heads, an interview with Emil Kozak, Barnaby Furnas' energetic paintings, the fantastic scenes of photographer SunTek Chung, Kent Hendricksen's tapestry art, works by Hollywood's City Bomb Squad, and Blu's street art. Not to mention, we also have a look at musical artists The Album Leaf, Jahdan, The French Kicks, Scaramanga Shallah and the Private Stock of Tars.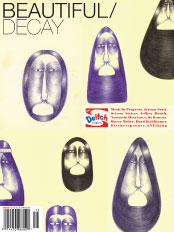 Issue Q was done in collaboration with Deitch Projects, a gallery set on challenging boundaries in the art world. The issue compiles Deitch Projects' most provocative and influential artists, affiliates, designers, musicians, and fashion designers. Includes an exclusive interview with Jeffrey Deitch, the virtuoso behind Deitch Projects. Many years ago, legendary Deitch Projects' artist Barry McGee (Twist) was actually the inspiration behind Beautiful/Decay's name.
Featured artists include Jeremy Scott, NYC brand & record label aNYthing, Brazilian graffiti heroes Os Gemeos, Noritoshi Hirakawa, Brad Kahlhamer, elite New York design firm Work In Progress, NYC pop performance artists Fischerspooner and The Scissor Sisters.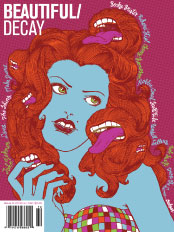 Issue R is a hyperactive reflection of artists connected solely by their collective resistance to a theme. In celebration of artists who refuse to conform, Beautiful/Decay broke its own "themed issue" mold to instead present a brilliant group of artists from across the board.
Features a cover story on Zeloot, a talented young illustrator from the Netherlands who creates psychedelic art-inspired rock posters, the rich Fire Training Facility photographs by Becky Brister, stencil work by John Fekner, the psychedelically meditative drawings of Mike Pare, the collaged fabric work by Ai Kijima, Private Stock by Lyes, and the dramatically dark sculptures of Richard Stipl.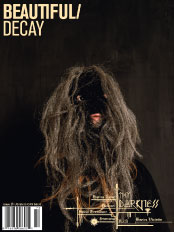 In issue S, #Thy Darkness," Beautiful/Decay took inspiration from manuscripts of the Middle Ages, (also known as the Dark Ages), ornamental typography, heavy metal, and gothic iconography that teeters on the edge of evil.
Includes Hanna Liden, Banks Violette, Tomory Dodge, Death by Design Co., Guy Richards Smit, Jason Middlebrook, James Drake, and Deuse Seven. We have interviews with Scott Treleaven and Alex Stolypine (aka Psyckoze) as well as the Private Stock of Arys, and insights into the music of RZA, Immortal, Despot, and Pelican.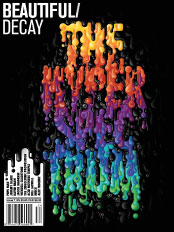 Issue T, #The Hyperspectrum," is a prismatic reflection of all things psychedelic. The cover features a prismatic, die-cut reflective diagram over Alex Trochut's melting typography.
Includes work by Jeremy Blake, David Shaw, Jacob Magraw, Don Suggs, Ara Peterson, Aaron Johnson, Tim Hawkinson, and Bill Laswell, and interviews with artists Wendell Gladstone and Pepe Mar. Musical features include Acid Mothers Temple, Music Has Evolved, and an exclusive interview with The Usaisamonster. In addition, Issue T features a kaleidoscopic fashion shoot and a look at handmade 'zines, paying homage to Beautiful/Decay's own humble roots.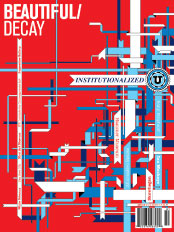 Since the birth of the first public museums roughly three hundred years ago, art as we know it has been profoundly affected by the poetics and policies of the institutions that house, display, and collect works of art.
Featured interviews: Matthew Higgs, Kathy Kimball, Hans Ulrich Obrist, Mami, Susanne Pfeffer, and James Elaine. Show reviews: Matthew Monahan at the MOCA, Tom Sach at the Rose Art Museum, Mark Bradford at the Whitney, John Kessler, and the MCA's #Sympathy for the Devil: Art and Rock and Roll Since 1967." Also includes an article on Skowhegan's seminal artists residency, Baby Elephant and an interview with Fugazi's legendary front man, Ian Mackaye.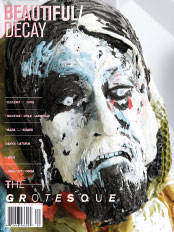 Issue V, #The Grotesque," explores repulsion and attraction within contemporary art and music. Conceptions of non-classical beauty—at once both seductive and transgressive—have long been envisioned.
Features the works of artists including Folkert de Jong, Trenton Doyle Hancock, Pearl C. Hsiung, and Tanya Batura. Music features include Mash-Out Posse, GWAR, DJ Swamp, and Genitorturers.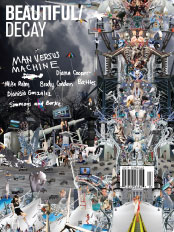 Issue W, #Man Versus Machine," addresses the issue of technology as it relates to art; the artists featured in this interplay technologically derived art with the human condition.
Includes features on Dionisio Gonzalez, Brody Condon, Simmons and Burke, Diana Cooper, and Mystereality. The issue also explores musicians inspired by new technology: Mike Relm, Battles, Deantoni Parks, and Lucky Dragons. In the fashion spread, humans and machines duke it out in an epic battle.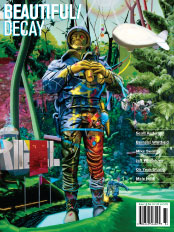 Issue X marked the beginning of a new direction in Beautiful/Decay's content, expanded the international art content and including more in-depth features, comprehensive artist interviews, current show reviews, and gallery reviews. The issue is loosely curated around an investigation into phenomenological representations of reality, and the myriad ways in which it may be fabricated, duplicated, or parodied through the artistic process.
Featured artists include Scott Anderson, Barnaby Whitfield, Michel Swaney, Jeff Whetstone, Oh Yea Studio, and Mala Iqbal.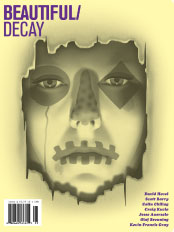 Issue Y was specially timed to coincide with and celebrate the sheer explosion of creative activity surrounding the Miami art fairs and the art fair season. The features are united through the individual artists' idiosyncratic explorations of humor and irony within a Postmodern dialogue.
Includes features on artists Jesse Auersalo, Olaf Breuning, Kevin Francis Gray, and interviews with Craig Kucia, David Hevel, Colin Chillag, Laurel Nakadate & Lilly McElroy, and Scott Barry.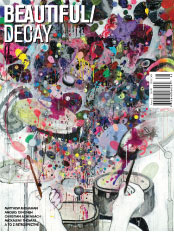 Issue Z marks the end of the alphabet, and the final issue of Beautiful/Decay in magazine (and letter) form! To pay tribute to the last 8 years, Beautiful/Decay invited 26 artists—one for every letter of the alphabet and issue of Beautiful/Decay—who were all featured in past issues.
Includes Pepe Mar, Erik Parker, Scott Anderson, Julia Randall, Skwak, and Aya Kato. B/D also mixed the old with the new and included features on Matthew Monahan, Anders Oinonen, Christian Achenbach, and Mickalene Thomas.